Mango with mung bean paste and dried mango center
With the Chinese Mid-Autumn Festival right around the corner, I wanted to share this tutorial on how to make your own Snowskin Mooncakes. Ever since I moved into my own home, I made it a priority to buy mooncakes for my family, but they can be pricey. Last year, I decided to try making these after finding recipes online. I then tweaked it to my preference for a softer and smoother skin, with less sweetness. Usually the fillings are sweet enough without adding more to the skin. These are not baked like the traditional kind, and are tons of fun to make. They are easy to make if you can find the right ingredients, but can be time consuming. The hardest part is to find the Kou Fen, fried glutinous rice four. If this ingredient is not readily available, you can make your own and the instructions are below. Oh! and measure everything on a kitchen scale... every gram makes a difference!
Things you will need:
Mooncake mold ( Jello molds are a good substitute )
Kitchen Scale
Sifter or fine mesh strainer
Plastic Wrap
Clean surface or pastry mat to roll out mooncake skin
90g fried glutinous rice flour (Kou Fen)
10g wheat starch (Tang Mien Fen) (This can be left out if someone is allergic to wheat, just add 10g to the rice flour needed)
30g shortening
30g powder sugar
130g water, juice, tea, coffee, or any other flavoring liquid coloring (optional)
Paste of your choice for filling, such as lotus seed, red bean, taro, sesame, or chestnut.
Extra fried glutinous rice flour for dusting.
1. Sift together the glutinous rice flour, wheat starch and icing sugar together. Use a soon to break up clumps.
2. Rub the shortening into the flour mixture until it is a crumbly texture.
3. Combine water or liquid (with coloring, if using), and add to the flour. Mix until a soft dough forms and that all dry and wet ingredients are uniformly mixed.
4. Cover with plastic wrap and set to rest for 10 mins.
5. In the meantime, portion out balls of the filling depending on the size of your molds a in the ratio 1/1. If you are using a 30g mold, ration out 15g of filling to 15g of skin dough.
6. Once dough is rested, weight out the proper grams and roll into balls. Place on clean flat surface or pastry mat and flatten with hands until a disc is formed, about 1/8" to 3/16" in thickness.
7. Wrap dough around filling and pinch close, dust with glutinous rice flour and roll into a ball. You may also dust the inside of the mold to prevent the mooncake from sticking, but make sure you shake out the extra flour. Place mooncake ball in mold and press onto flat surface. Knock it out if using traditional molds or plunge out if using the modern plastic molds.
8. Place in an airtight container and chill before enjoying! Please eat within 5 days for freshness!
The end quantity highly depends on your mold. I can make 16 mini 30g mooncakes from this recipe.
Making your own Kou Fen
To prepare your own fried glutinous rice flour, cook glutinous rice flour in a dry frying pan (with no oil) until smoke is visible and flour turns slightly yellow. Remove from heat and let cool completely before using.
Modern Mooncake Molds
Kou Fen, Wheat Starch, and powder sugar
Use a spoon to break up clumps when sifting
Shortening broken in pieces
Rub shortening into dry ingredients
Correct texture will be crumbly
Add liquid and mix thoroughly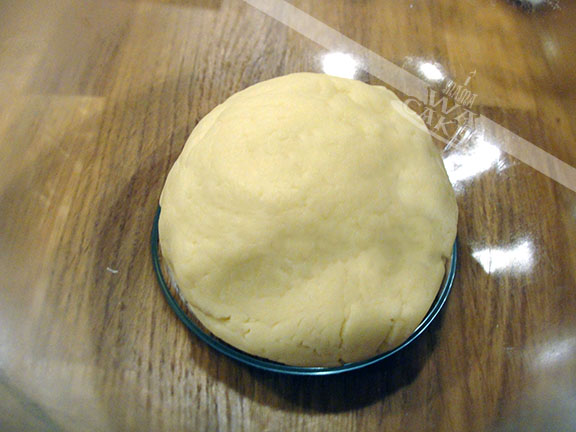 Combine until a smooth soft dough is formed
Measure out filling per ratio for mold size
Measure out skin dough per ratio for mold size
Flatten ball of dough into a disc
Place filling in center of disc
Wrap dough around filling
Pinch close the opening
Dust with extra Kou Fen and roll into a ball
Dust interior of mold and shake out excess
Place mooncake ball into mold
Press down on plunger to release
Peach Yogurt with Lotus paste filling
Coffee with Lotus paste filling